Posted by koreanpower999 in 8 gold medals, Beijing Olympics 2008, Michael Phelps, Olympics, swimming.
add a comment
BEIJING (AP)—The last one was a gimme because the U.S. has never lost this Olympic relay and it seems Michael Phelps never loses.
Just in case, though, Phelps had his own personal closer, Jason Lezak, ready to pick up a save in a relay race that would stamp his teammate as the most golden of all Olympians.
It hardly proved necessary because Phelps did the heavy lifting himself this time, swimming past an Australian and a Japanese in the butterfly to hand Lezak a lead he wasn't about to lose. The only thing left was to celebrate and break out a calculator to add up the medal haul.
Medals don't lie and Phelps now has an astonishing 14 golds in his career, five more than any Olympian ever. His eight this year alone is just one shy of the most any other Olympian has won total.
Four years from now in London, barring some freak injury or the emergence of another freaky swimmer, Phelps is likely to add to his total.
So now the question becomes, is he the greatest Olympian ever?
The answer to that is no.
Not until he wins even more in London, or does something even more freaky, like pick up a gold in the triathlon.
OK, so maybe the idea of Phelps on a bike or taking a run after a swim is a bit far-fetched. The point is that swimming medals are so plentiful that it's the only sport where someone can even think of winning more than a handful in any given Olympics.
As good as the U.S. basketball team is, the players will get only one medal when they finish off their Olympic run this week. And as awesome as Usain Bolt runs, the fastest man on the planet will go home to Jamaica with no more than three gold medals, for the 100 and 200 meters and the 400 relay.
Phelps was able to win eight golds in nine days because, yes, he's the greatest Olympic swimmer of all time. It also helped that his toughest race came first in the 400 individual medley and he excelled in events that were spread out at just the right intervals.
But greatest Olympian ever? No.
Give that nod to Carl Lewis, who won nine gold medals over four Olympics, including the long jump four games in a row. Unlike Phelps, Lewis won his medals doing two very different things, using his speed to win the 100 and 200 meters and his leaping ability for the long jump.
He likely would have had even more medals but the United States boycotted the 1980 games in Moscow where Lewis had qualified in the long jump and as a member of the 400 relay team.
"I don't want to appear to be putting Phelps down," said David Wallechinsky, the Olympic historian who has literally written the book on the games. "But I need a little more longevity to name him the best Olympian ever."
The people at NBC would certainly debate that because they built the first week of the Olympics around Phelps' quest for eight golds, scoring a ratings bonanza that will pale only to the endorsements Phelps will haul in after the games.
But if George Eyser were alive and competing today, the network would have made him a hero, too, if only to tug at America's heart. Eyser won six medals in 1904 in gymnastics, despite a left leg made of wood after his original one was run over by a train.
Wallechinsky believes a case as the greatest ever could also be made for Finland's Paavo Nurmi, who won nine gold medals in middle- and long-distance running in the 1920s. While much has been made of the 17 times Phelps had to swim in these games, he never did anything like Nurmi did when he won both the 1500 meters and 5000 meters within two hours of each other in 1924.
Nurmi would likely have won even more, but he was banned from the 1932 games in Los Angeles on a 13-12 vote by Olympic officials who declared him a professional after he appeared in advertisements.
And who knows what Jesse Owens might have done had world events not denied him the chance to compete past the 1936 games, where he ran and jumped his way to four gold medals under political and racial pressures that Phelps never had to face.
Phelps is a testament to great training, hard work and incredible natural ability. It took 36 years for someone to break the record of seven golds set by Mark Spitz in Munich and this record may be untouchable long after that.
He celebrated Sunday morning at the Water Cube with fists in the air and hugs from teammates. The look on his face was one of triumph mixed with the relief that he had done what some thought was impossible.
Great swimmer, yes. Greatest swimmer ever, OK.
But no matter what NBC tries to tell you, it's too early to declare him the greatest of all Olympians.
Posted by koreanpower999 in Asian American, Asian Americans, China, Olympics, race, racism, Spanish basketball team.
3 comments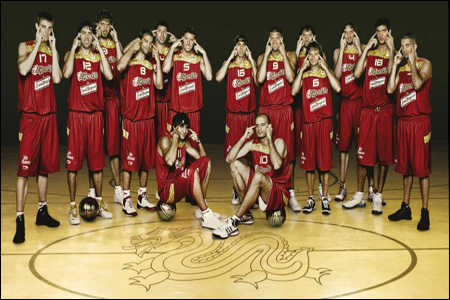 I'm tired of all the excuses the Spanish are making about the racist photo they posed for in an advertisement. If they don't get why people are angry about it, then what can I say. This is the same crap that has always been tolerated in Europe. This is the same continent that allows people to openly utter racist chants and proudly display swastikas at soccer games. Many of my friends on the left love to talk about how we should be more like Europe. Excuse me, if I vomit the next time they tell me that.
Spain photo exposing NBA double standard?
Yahoo! Sports; by Adrian Wajnarowski; August 13, 2008
BEIJING – When Jason Kidd logged into a laptop to see the Spaniards with his own eyes on Wednesday morning, the photo appeared just as described to him: Here were National Basketball Association players giggling like schoolgirls as they posed with fingers pressed against their temples in a squinty-eyed pre-Olympic salute to China.
Before long, Kidd considered the consequences had those giddy European faces been substituted with those of Team USA.
"We would've been already thrown out of the Olympics," he told Yahoo! Sports. "At least, we wouldn't have been able to come back to the U.S. …There would be suspensions."
And for his European peers, well, Kidd suggested, "They won't do anything to them. It's a double standard."
For Spain, there are several NBA players, including the Lakers' Pau Gasol and Toronto's Jose Calderon, in this unnerving team photo. They wore Spanish uniforms and had the federation's seal on the floor. It ran as a full-page advertisement in a Madrid newspaper, an advertisement for a national team sponsor. This wasn't an impromptu shot, but a carefully calculated choice.
Gasol is too smart, too sophisticated, to have let this happen. After practice Wednesday, he suggested that he wasn't troubled with the photo on the merits of longstanding racial implications as much as he thought it wasn't funny. The sponsor pushed and pushed them to pose, he said. They broke him down.
"It was supposed to be a picture that inspired the Olympic spirit," Gasol said.
And how'd that work out, Pau? Just imagine what would've happened had that explanation come out of the mouth of Carmelo Anthony? Here's what: Stern would've been on the next plane to China to work the damage control.
The Spaniards made a deplorable circumstance worse with dense justifications and a sense that they had done nothing wrong and nothing offensive. When they were hemming and hawing, digging a deeper ditch, Kidd talked at Team USA's practice. He was curious how the Spanish players were spinning this.
"They have some explaining to do," he said. "They'll come up with something good."
Gasol and Calderon aren't just accountable to Spain on this Olympic stage but the global corporate entity that pays them more than $130 million in pro contracts. The NBA could've delivered a ready rebuke on Wednesday and there was none.
They'll dock you $50,000 for ripping an incompetent official, but you can get a pass on an orchestrated racial slur? Gasol is kidding himself to say that he was pushed into it. Do you think Kobe Bryant would've been pressured to pose this way? LeBron James? Gasol is a serious, sensitive player with the prestige and clout for Spain to step up and say: Forget it, fellas. This isn't happening. Only he didn't.
As much as anything, this episode feeds a prevailing feeling among African-American NBA players that they're the constant scapegoats for whatever issues – real or perceived – plague the sport. Without the public demanding a pound of accountability for European players, do they get a pass?
"The simple question is, 'Would Stern and the league hold the American players accountable?' And I think the answer to that is yes," one NBA general manager said. "So why wouldn't he hold the 'other' NBA players accountable – unless the rules only apply to the American players."
So far, there's nothing out of the league office. Rest assured, unless there's an outcry over that photo, the NBA will wish this story away. Maybe the league will even issue a mild rebuke. It won't be enough. Maybe this doesn't rise to a suspension, but there should be significant fines and a bold condemnation. There needs to be a message delivered to NBA players everywhere: When you earn your money with us, you are always on the clock. Kidd, Kobe and LeBron understand it. It's time the rest of the league does, too.
As some suggest he'll do, Stern can't dismiss this as the business of a federation team. These are NBA players returning to NBA cities this year. Never mind the host country and millions of fans here, but consider the Asian-American season ticket holders in cosmopolitan cities such as Toronto and Los Angeles. One of the reasons the New Jersey Nets traded for Yi Jianlian was to market him to a large Asian-American base in Metropolitan New York.
The NBA is a global league, so understand: Whatever the summer uniform, it's the players who are forever representing the logo. The idea that Stern shouldn't act on this behavior because it falls under FIBA and Spanish rule is ridiculous.
"We could say that too, but at the end of day, we are still representing the NBA," Kidd said. "No matter if we're saying (the actions) have nothing to do with it. At the end of day, we have to go back home, and our jobs are there."
Stern is walking a slippery slope here, balancing relationships and partnerships in China and Europe. Already, there are jealousies developing in Europe over the way Stern is fawning over the Chinese market. Some European teams have told American marketers and agents that they've felt neglected in Stern's wanderlust for Asia. FIBA is the governing body for European basketball and they've already dismissed this as a non-issue. That's FIBA's right, but the NBA has a different responsibility here. It has to take the higher ground.
"It would start an international riot if we did it, but they aren't us," an Eastern Conference executive said. "It's low-rent stuff, but FIBA won't do squat, so (the) NBA would show them up with any punitive action. I would be shocked if the NBA does any more than condemn (the) action."
These Games have been a fascinating illustration in the complexities of the NBA's globalization. The Americans have been treated like rock stars in China. Team USA has handled everything with grace and good humor. After too many trips overseas when this wasn't the case for America's national team, it sure is now.
Yes, there are different attitudes in the world, different sensibilities in Europe and North America. But for the NBA, there can be just one set of right and wrong. There should be only a strong voice and strong action now. No one should have to call for accountability from the Spaniards – the way that they would for Americans. Once and for all, David Stern has to be clear that there aren't rules and responsibilities for different athletes, and different backgrounds – just those for an NBA player.